YOUNGEST INDIAN TO OPERATE MULTI ELECTRONIC DEVICES TOGETHER IN LEAST TIME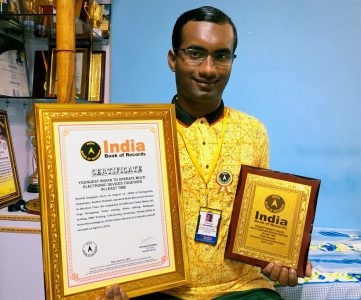 The supreme goal of life depends upon talent and the power of contemplation. As a young man, there is no any other better way than awareness who can give you more opportunity to know unknown things with interest.
Kushal Das Gupta (born on August 14, 2000) of Anantapur, Andhra Pradesh, operated Multi Electronic Devices in Shortest Time. He completed 10 Different Tasks (music DJ, Logo Designing, Video editing, Photo editing, Wall paper setting, etc.) on 10 Electronic Devices in 3 minutes and 29 seconds on April 4, 2018.