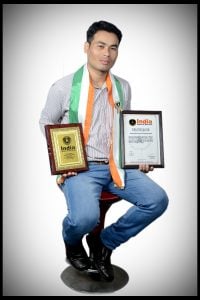 No nose poking here, but the nose creating wonder despite pressure of a bike put on it
Balancing oneself, maintaining the same and delivering creativity here in this case.
Painting an entire painting with a single colour applied on nose or through different colours?
In the case of the latter, it is again an achievement.
Nonetheless, nothing less in the case of the former as well, the end product, painting should be worthwhile to look at appreciate, cherish and the like.
If not, still is an achievement, feat, unique, uncommon thing etc here in this case.
UNIQUE PAINTING WITH NOSE WHILE BIKING
Sirumoni Doley (born on October 23, 1993) of Assam made a Unique painting by nose, while biking without touching the handle and holding the drawing sheet in his hands during the entire 26 km ride of 26 minutes, on 23rd October 2017.