MOST THUMB PUSH UPS IN ONE MINUTE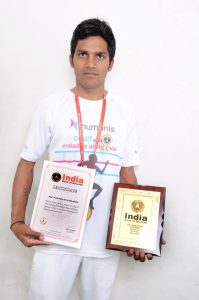 In this busy world to make ourselves fit, smart and tension free, yoga, push up, etc are essential. As far as push-up is concerned, it is a total-body functional movement which increases our strength and gives the benefit of engaging the core and lower body. No doubt, Shammi Kumar may  be the role model for our youth due to his great performance.
Shammi Kumar (born on August 10, 1991) of Jind, Haryana, performed the Most (72) thumb pushups in 1min, at India Book of Record's head office, on January 6, 2018.