THICKEST 24CTGOLD-COATED BHAGWAN MAHAVEER AND LAKSHMI-GANESH IDOLS MANUFACTURED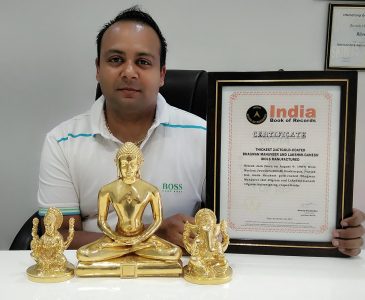 Manufacturing god idols is a difficult profession and a vivid art which attracts all the art lovers. Dedication, satisfaction and devotion of the manufacturer whisper through his idols.  Perfect finishing and gleaming shine are the main qualities which are essential for the market value.
Ritesh Jain (born on August 9, 1987) from Neelam Jewellers(REGD) Hoshiarpur, Punjab has made thickest gold-coated Bhagwan Mahaveer idol 20gram and Lakshmi-Ganesh 10gram idol weighing, respectively.