Teachers affect eternity; no one can tell where their influence stops.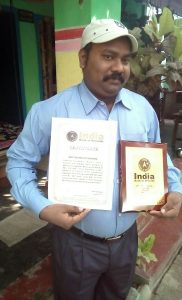 Congratulations Sadanand Paul for making eligible ways to India Book of Records in the field of Education !!
Sadanand Paul (born on March 5, 1975) a Lecturer from Katihar, Bihar qualified 10 different teaching tests. He has qualified Ph D, M Phil, UGC-NET, Junior Fellowship of MoC [Ministry of Culture], B Ed, Lectureship Experience Test, TET (upto class-VIII), TET (upto class-X), TET (upto class-XII), Teacher Evaluation Test, which is from Primary Education to University level as on June 8, 2017.