India Book of Records congratulates our esteemed record holder Souhardya De for receiving the prestigious Pradhan Mantri Rashtriya Bal Puraskar 2021 for his accomplishment as a young successful author.
Souhardya De, born West Bengal is an author of Historical Fiction, an art, heritage, history, and culture columnist for the Sunday Guardian and Lokmat Times Zest, a podcaster, and a Fellow of the Royal Asiatic Society of Great Britain and Ireland.
He is felicitated for making a record with India Book of Records on September 5, 2019, for authoring a book named 'The Chronicles of Suryavansh'.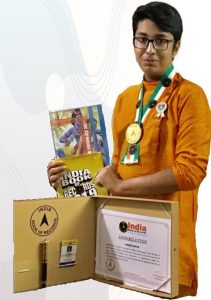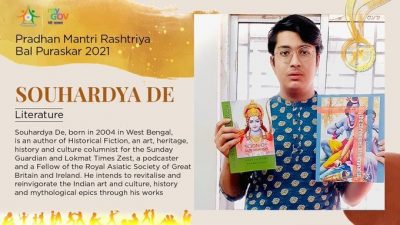 Pradhan Mantri Rashtriya Bal Puraskar formally known as 'National Child Award' is given to children with exceptional abilities and outstanding accomplishments. It is India's Highest Civilian Honour bestowed upon exceptional achievers below the age of 18.
Prime Minister Narendra Modi on January 25, 2021 interacted with 32 awardees of the "Pradhan Mantri Rashtriya Bal Puraskar" (PMRPB) via video conferencing. The awardees are from 32 districts of 21 States/UTs.