SOLO BICYCLE RIDE ON INDIAN GOLDEN TRIANGLE ROAD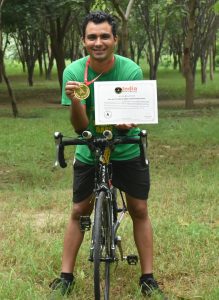 An adventurous journey increases our internal strength and makes us bold. As a result, our interest and passion to do something unique increases automatically. Our every day movement creates a new history which touches the heart of countrymen and gives a message of fraternity, peace and harmony.
The appreciation award for the solo bicycle ride on Indian Golden Triangle road was achieved by Vikas Saroha (born on June 14, 1993) from Sonipat, Haryana, covering 684 kms solo by his geared bicycle in 29 hours and 07 minutes on Delhi-Agra-Jaipur-Delhi en-route with the message – 'India by Bicycle'. He started his journey from India Gate on June 30 at 05:05 am and reached back India Gate on July 01, 2018 at 10:12 am.