PICTORIAL DEPICTION OF 'SUNDARKAND' THROUGH PAINTINGS BY THE YOUNGEST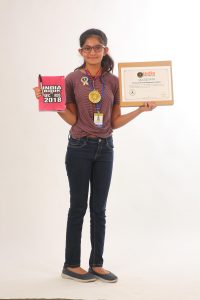 A dream cannot be changed into reality like a magic, for that strong determination and hard work are essential. We must perform something that is known by the world community. Competence is the rare commodity in this age.
The record of Pictorial Depiction 'Sundarkand' is achieved by Isha Majithia (born on April 07, 2006) of Ahmedabad, Gujarat, in a series of 35 Paintings from October 2012 to March 2016, Paintings with story published in 2016 (vide : ISBN  978 – 93 – 85023 – 09 -5).