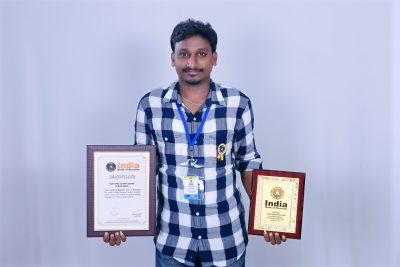 Everything is god-created which we are using in this world. Though, farmers may be food grains generators here, but still, main force, energy behind them is the almighty. However, it is not a bad idea at all, if we specifically farmers here in this case, devote a share of their production to god or write down god's name on it, for thanking, seeking one's blessing for the present harvest in hand as well as for those to come up in the future, asking for divine grace in their regards for trying and be kind, free of any problem, disappointment etc.
MOST TIMES TO WRITE SAIRAM ON RICE GRAINS
Vijaya Mohan Koppineedi (born on November 18, 1989) of West Godavari, Andhra Pradesh, wrote 'Sairam' on 1,33,333 rice grains, starting from March 15, 2015 to April 16, 2015.