MOST LANGUAGES SUNG DURING ONE CONCERT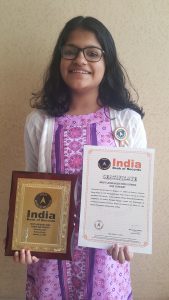 Music and song remove the tension of our lives. A non-stop performance of song is obviously worth celebrating and gives a fantastic response. Your hard work and efficiency are result-oriented. You well deserve this success.
Suchetha Satish (born on August 17, 2005) Kannur, Kerala, Sang Songs in 102 Languages non-stop, from 4:10 pm to 10:30 pm (6hrs & 20 mins),  in the concert 'Music Beyond Boundaries', Organized by Indian Peoples Forum, under the Patronage of Consulate General of India, Dubai on January 25, 2018 at  the Indian Consulate Auditorium, Dubai.