MOST COUNTRIES CAPITALS RECALLED IN MINIMUM TIME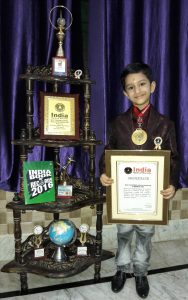 Talent is not a man made thing, it is a natural gift.  Such a type of child  has a special ability to do something well.  It is an ability that someone is born with. Someone who has such a type of  talent is really fortunate like him.
Mudit Joshi (born on August 29, 2011) of Pantnagar, Udham Singh Nagar, Uttarakhand, recalled 198 country's capitals in 2mins 55secs, at India Book of Record's head office, Faridabad, on December 14, 2015.