MOST ARTWORK OF ELEPHANT USING DIFFERENT TYPES OF MATERIALS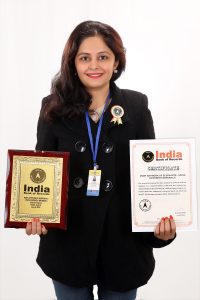 By nature, human beings have unlimited desire and always want best quality and most quantity. In this circumstances, there are some persons who have ability to know the other's interest and make them satisfied with his unique creations.
Aakruti Pilojpara (born on May 18, 1985) of Rajkot, Gujarat, made 500 Artworks with elephant as common theme between March 10, 2018 and May 27, 2018 at her Residence on different types of materials like Craft, Paper, Fabrics, Newspapers, wood etc. using different types of ingredients like pencil colours, acrylic colours, sketch pens, marker pens, etc, as on June 8, 2018.