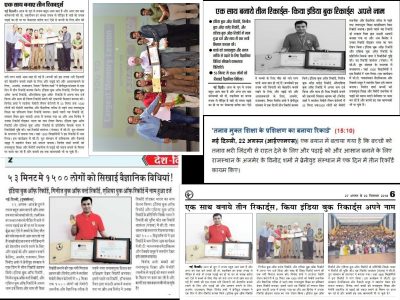 MEDIA SUPPORT FROM INDIA BOOK OF RECORDS
VINOD SHARMA (Trainer), AJMER, RAJASTHAN
FEAT: LARGEST MEMORY TRAINING SESSION
MEDIA COVERAGE:
Print Media: IANS (News Agency); Gurgaon Today; Namskar Duniya; Dainik Suffa; Delhi Surkhiya
Online Media: Daily Hunt; The Quint; Dainik Pukar; Vision News; Insaf Express; Inside News; Udaipur Kiran; Today Face; Pioneer Alliance
Teaching is the most responsible work of our society. A true teacher fills the youngs' empty mind with knowledge and makes them able and sensitive. His love and anger during teaching is the boon for students. Education is not the filling of a pail, but the lighting of a fire. What you love, give it back in the form of service, and you do more than succeed.