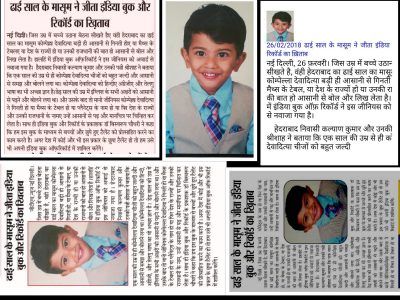 MEDIA SUPPORT FROM INDIA BOOK OF RECORDS
KOMPELLA DEVADITYA OF HYDERABAD, TELANGANA
FEAT: A CHILD OF EXCEPTIONAL RECALLING AND OBSERVATIONS
MEDIA COVERAGE:
Print Media: Indian Horizon; Dainik Jagran; GTH News; Naya India; Samachar Varta
Online Media: Hindi Khabar; Mann Live News; Public Nation; Daily Hunt; Newsdog
Talent is not a man made, it is a natural gift. It is an ability that someone is born with. By nature, talent behaves like electricity. A talented child has unlimited potential. If we care him properly, he can make history, otherwise, can destroy everything. Due to this ability, he has become the role model of his age group. When other children think for playing, he has made a record.