MAXIMUM YOGA POSTURES DISPLAYED ON A STOOL (GROUP)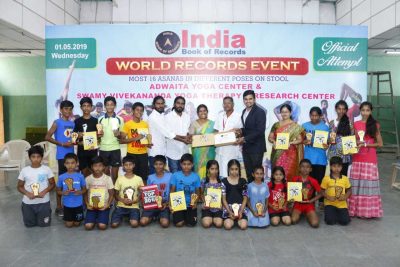 How many yoga postures do you think one can perform on a stool? Yes, you read that right… on a 'stool'.
Adwaita Yoga Centre along with Swamy Vivekananda Yoga Therapy and Research at Seedha Kalyanam Mandapam, Gobichettipalayam, Tamil Nadu set the record for performing the maximum number of yoga postures on a stool. A total of 16 postures were displayed by 16 students for a total duration of 1 hr 42 mins and 13 seconds, on May 1, 2019.