MAXIMUM DISTRIBUTION OF A COUGH SYRUP AMONG STUDENTS
When a special event is organized on a special occasion, its importance and popularity automatically increased. A large number of conscious people give their support and the event becomes effective and successful. Thus it achieves its goal easily and a thoughtful message goes to the society.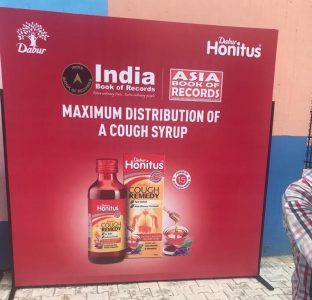 The record for distributing the maximum number of cough syrups among students is 585 and was set by Dabur India Ltd. They celebrated Independence Day 2019 with the slogan 'Khasi se Azaadi' (Freedom from Cough). The event was organized at the Govt Senior Secondary School, Sector 6, Panchkula, Haryana, on August 14, 2019.