MAXIMUM DISTANCE COVERED ON MOTORCYCLE IN 24 HOURS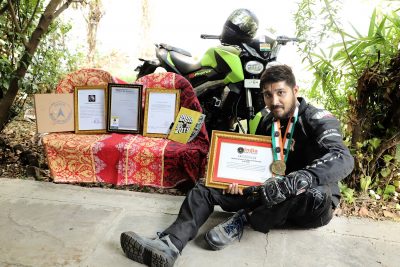 Life is either a daring adventure or nothing! 
How far can you go to achieve what you want? Covering a distance of 2460 km all in a matter of 24 hours came to Harsh Vardhan Pancholy of Kota, Rajasthan almost instantly once he set his eyes on the big reward. This young man with boundless zest started his journey at 2100 hrs on April 20, 2019, from Hanging Bridge, Kota, all the way to Chittorgarh, completing 15 laps, ending at 2100 hrs on  April 21, 2019.