MAXIMUM DISTANCE COVERED ON A BICYCLE WHILE BALANCING A FOOTBALL ON HEAD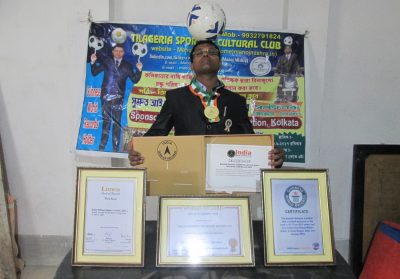 No doubt, hard work gives some pain, but if we continue this trend on regular basis for a long time, we can achieve any big target. Human spirit is indomitable. Main thing is that how much serious we take this challenge.  Of course, to make such a type of balance, practice with passion is required which Manoj has performed.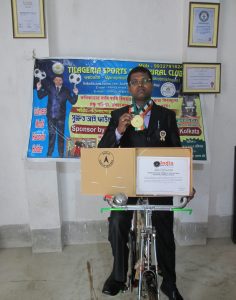 The maximum distance covered on a bicycle while balancing a football on head is 45 kms and 250 meters (1 km to and fro), starting from Haldia Morh KTPS Maingate to Thana Gate on NH6, in 4 hours and 30 minutes, from 0635hrs to 1105hrs and this record was set by Manoj Mishra (born on February 01, 1982) of Medinipur, West Bengal, on December 26, 2018.