MAXIMUM CUBES RECITED IN 30 SECONDS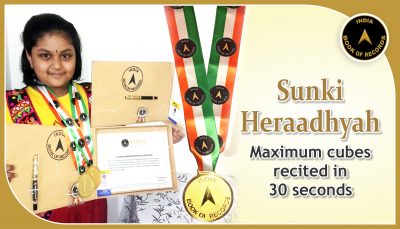 The record for reciting the cubes of the maximum numbers in 30 seconds was set by Sunki Heraadhyah (born on July 20, 2012) of Hyderabad, Telangana. She recited the cubes of numbers from 1 to 25 in just 30 seconds, at the tender age of 8 years, 4 months and 27 days, as confirmed on December 16, 2020.
She is also appreciated for performing triple digit mathematical calculations. She solved 30 triple-digit subtraction questions within 32 seconds, at the young age of 8 years and 5 months, as confirmed on November 20, 2020.