LONGEST UMBRELLA BALANCING ON BABY FINGER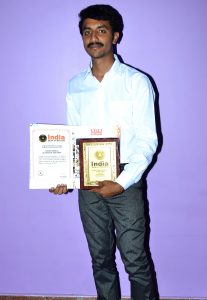 The game can be won if you are smart and passionate. For this, well proved ideas and skills are essential. Defeat may come before you, but you must not be defeated. Know that it is you who can achieve any goal.
Pradeep V (born on September 17, 1998) of Anekal, Bengaluru, accomplished the Longest (1hr, 2min and 30sec) Umbrella weighing 450gms balancing on his right hand little finger, as on December 29, 2017.