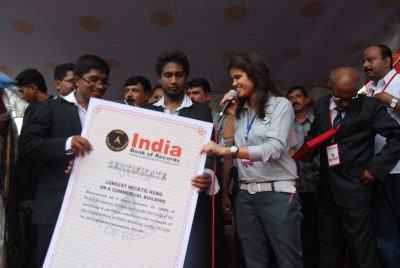 Everyone has seen a neck tie in their day to day life. It is one such ornamental clothing which shows nothing and hides nothing, but definitely does add a star to our look. In schools, we wear it as a compulsory part of our uniform, and in the corporate, it is a compulsory part of a decent formal look. If added to a casual look, the neck tie goes amazingly well. The normal usage of a neck tie is only for humans to look good in, but never have heard of or seen a neck tie which is specifically designed especially for a huge lifeless commercial building.
God's own place 'Kerala' is mostly known for its lush green atmosphere, pious Onam celebration, soft spoken people and amazing scenic beauty. But this time one inhabitant of Kerala, created something so to beautify the coconut tree filled state by creating a piece of neck tie for a commercial building to adorn itself in. India Book of Records adjudicator reached Kerala on July 13, 2012, amidst the hilly streets and greenery, just to have a glimpse of the longest tie ever made and to be hung on a commercial building.
Mohammad Ali P., thought of making the inauguration of his wedding home 'HITEX WEDDING CASTLE', a memorable event, not only for himself but also for the people of Perinthalmanna. The resultant thought which emerged, made him create a tie of measuring 34.12 meters from the knot. As if this amazing length was not enough, he thought of hanging it on the top of his HITON commercial building for people to view and become awestruck by looking at it. It was yet another out-of- the-box creation which would have never been possible without the supporting hands of the event management and promotions company 'Colors and Concepts' and it vivacious team, who were all indulged into making the event and the tie a mega hit.
As the tie would become impossible to be measured once it is hung, so India Book of Records along with Mr. Anil J. Philips of Colors and Concepts went at an odd hour of 11pm of July 13, 2012 at Mr. Mohammad Ali's luxurious house and then take the measurements of the complete tie. The total length of the cloth used in creating the massive neck tie was a breathtaking 149.71m.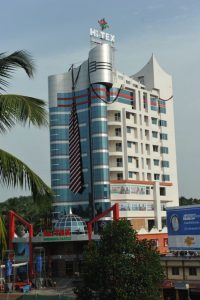 The next day, on July 14, 2012, when we reached the venue, the tie was already hungon the top of the enormous building and was inaugurated in the presence of a loud, happy and a crazy crowd and famous Malayalam film star Suresh Gopi.
To sum it all, the whole experience was beautiful and memorable one. India Book of Records had a proud experience to watch and verify such a memorable and a daring attempt. Never had anyone tried to make a commercial building look corporate and formal.
Salute to Mr. Mohammad Ali for making the huge effort and also to Colors and Concepts to have pulled out the complete daring feat to a successful level.