LONGEST SCOOTER RIDING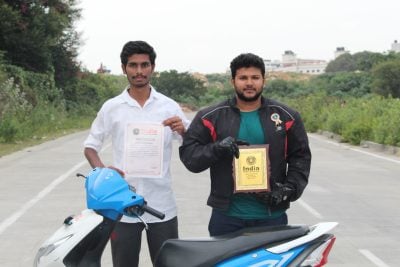 Driving or riding a bike is more dangerous than the driving a car. It is an adventure as well as a passion. To keep control over the speed of a motorcycle and make a balance on its two wheels during the fast running period is really a good skill.
Arun Kumar S. (born on July 10, 1996), Bangalore, Karnataka, along  with his friend Mohith, completed their  Longest Scooter Journey (2 persons on a single scooter) by road through Honda Dio from Bangalore to Nepal-China Border, Started on January 20th to February 7, 2018. He covered 7000 km in 19 days, Crossed 11 States of India and touched 3 Country's borders.