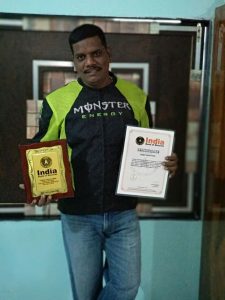 Sridhar Chidumalla (born on January 2, 1978) of Vashi, Navi Mumbai performed the longest ride of 6295.44 km in a week, i.e. from April 9, 2016 to April 14, 2016 at Vashi, Navi Mumbai reported as on April 14, 2017.
Moving ahead safe and sound may only make you go a long way personally & ecologically
We are living in times, where rationality is required more than ever before 
You can drive fast but, don't make the mistake of driving your senses, wellbeing away in driving fast.
 Driving fast may not help you in reaching your destination earlier, but may only delay you in making you reach your destination.
Driving fast only leads to extra consumption of fuel.
Polluting the environment in the process for more of carbon footprint left behind in it.
However, taking into consideration all these things, if a record is tried to be made or broken, through an activity, initiative, move and the like, can only be accepted with stretched out hands and cherished for a long time.