LONGEST HUMAN CHAIN TRANSMITTING A VOICE MESSAGE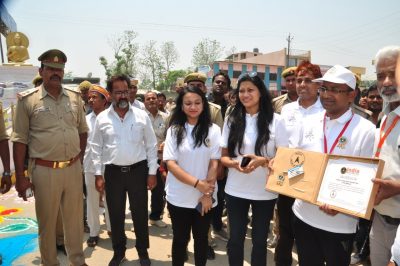 A ballot is stronger than a bullet.
In all his efforts to fulfill his responsibility, Kunal Silku, District Election Officer, Siddharthnagar, Uttar Pradesh went the extra mile when he decided to involve the general public in his record attempt of using a unique way to promote the campaign 'Vote Dein' (Cast your vote). He set the record of organizing the longest human chain transmitting a voice message 'Vote Dein', which saw a participation of as many as 7000 people. The human chain extended over 9 km starting from Aligarhwa, Nepal Border and ending at Birdpur Tiraha at Naugarh Subdivision, Uttar Pradesh, on May 7, 2019.
---