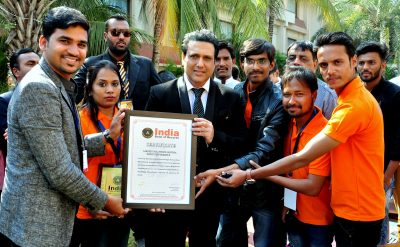 Level Up Enterprise and Nirman High School from Ahmedabad, Gujarat, organized an event, in which 6,535 people performed the Largest Bollywood Govinda dance, at J. D. Nagarvala Police Stadium, Shahibag, Ahmedabad, Gujarat, on January 20, 2018.
Multifaceted Govinda – the actor, dancer, singer, comedian, family man & inspiration for present young actors  
If we talk about dancing in the context of Bollywood then the first and most important name which comes to our mind is of Govinda.
Though he may be not that much active in the movies' scene at present, but still his dancing is inspiring people of his generation and youngsters alike.
Dance being is main forte, Bollywood also co relates Govinda with comedy, laughter, fun – in total full paisa vasool for audiences, who went to watch his movies in theatres.
In addition to also doing romantic, serious, action films in his Bollywood career till now.
Having seen it all success, failure, doom of a try for a political career, miss happenings, tragedies in personal life, family – Govinda was lucky to get a friend, well wisher, believer in him and in his capabilities, Salman Khan, whom Govinda doesn't forget to mention about on most of the occasions.