KARATE BLACK BELT BY A KID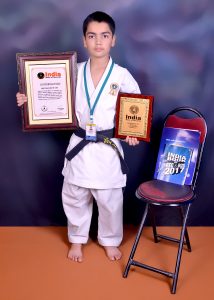 We know that hard work in adventurous field gives a unique result. The Black  Belt  denotes a high competence in the martial art. There are very few persons who get this prestigious belt. Someone, who got it, is really fortunate  like him.
Satyansh Sharma (born on September 23, 2006) of Gwalior, Madhya Pradesh, attained black belt in karate at the age of 8 years 4 months 19 days and qualified Black belt Shodan exam by Gi Toku Kai Karate – Do India, at Adyar, Chennai, as on February 11, 2015.