Leadership in Science Award
Dr Srimathy Kesan was awarded with the Golden Disc Award at the Worldkings Awards 2018 ceremony for her leadership in the field of Science, held on 11 November 2017 at Hotel Radisson Blu, New Delhi.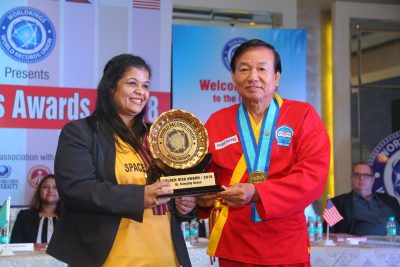 Dr Srimathy Kesan is inspiration for budding children, who want to become scientists when they grow up and serve science, discoveries, inventions and the like.
Earth getting further polluted, overcrowded, scarce of resources by each passing year, there is a requirement of finding out planets like our earth, which can sustain lives. However, Dr. Srimathy Kesan under her effective, efficient leadership, encourages young students from schools and other educational institutions reportedly, to go on space exploration journeys to serve the purpose in this regard.