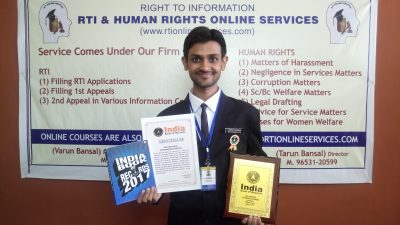 Law and judicial processes in the country are lengthy processes. A lot of time of litigants goes waste in filing complaints, going through formalities of law officers, bodies etc., before a conclusion can be reached. To deal with these, we can have an answer in the form of online legal services, where litigants can file complaints without much hassles, physical exertions, unnecessarily facing problems, when it is a female or a minority community involved, the latter, in the process, trying, laying the genuine platform of law and order machinery in the country, which stresses on equality for all before Judiciary, law and everyone applicable for rightful justice without any discrimination of any and every sort.
Record achieved by Varun Bansal is really appreciable!!
Varun Bansal (born on January 7, 1991) of Bhatinda, Punjab, created the first and the unique portal for providing online legal services for filing RTI applications, cases and getting solutions for Human Rights Negligence, Harassment, RTI Applications, to raise issue of Women Welfare's regarding Harassment, Dowry, Violence, Police Apathy etc, to raise issue of Pensioners welfare, to raise issue of SC/ST/BC Welfare's regarding Harassment, Violence, to raise issues of Consumer Court matters to provide online Courses related to Public Awareness program, as on April 20, 2017.