FASTEST TIME TO IDENTIFY MOST NATIONAL FLAGS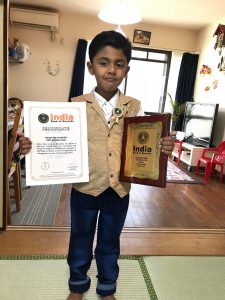 As we know that our minds and memories just don't work like they used to. A  healthy body makes our mind healthy.  A strong memory depends on the health and vitality of our brain. No doubt, Vibhu Balu talent and extraordinary memory power is unimaginable.
Vibhu Balu (born on December 26, 2012) of  Chennai, Tamil Nadu, has identified 240 Countries Flags in 2 minutes and 2 seconds at IISJ Tokyo on March 1, 2017 in Tokyo Japan  at the age of just 4 years, 2 months and 5 days.