FASTEST BIKE RIDE IN A DAY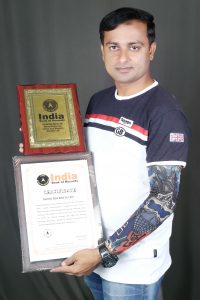 Hard work and talent with passion and courage in an adventurous field gives a unique result  Only a courageous and passionate person can show such a type of special ability which makes any expedition memorable. No doubt, he is a real hero and rare example of our society.
Mansing Shivajirao Desai (born on July 25, 1975) of Islampur, Dist. Sangli, Maharashtra completed the Fastest Motorcycling in a Day (102 km/hr) covering 2,454 km, while starting on December 17, 2017 at 00.01a.m. and concluding at 11:58 p.m., biking Triumph Tiger XRx 800 through Islampur, Davangere, Bengaluru, Madurai, Tirunelveli and returned upto Hebbal, Sankeshwar, Karnataka.