DOCTORATE AT THE AGE OF 85 YEARS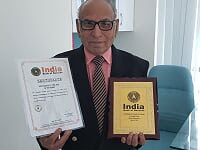 Your ability is your recognition. Of course, there is something inside you that is greater than any obstacle.
Dr. Chander Thakur (born on April 17, 1931) from Mumbai, Maharashtra has succeeded in completing his Phd. in Sindhi Literature from University of Mumbai, at an age of 85 years, as on February 15, 2018.