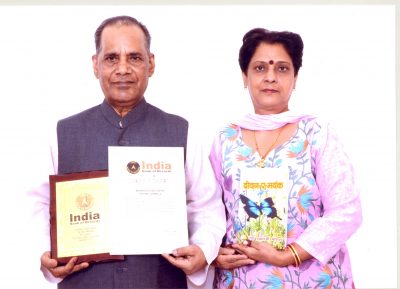 As we  know 'Gazal' is a type of amatory poems in Hindi. It was too much popular all around the Indian subcontinent in the 18th and 19th centuries, this popularity is same in present age also. It  may be understood as a poetic expression of both the pain of loss or separation and the beauty of love in spite of that pain. And 'Deewane of  gazal' means lover of gazals.
 There are different types of lovers of gazals i.e. deewane of gazals: some have interest in composing (writing); some of interest in singing and some have interest in listening. Krishan Kumar is one of those lovers who has interest in writing and made a record.
DEEWAN OF GAZALS BASED ON HINDI VARNMALA
Krishna Kumar Singh 'Mayank' (born on September 4, 1944) of Gomti Nagar, Lucknow, Uttar Pradesh wrote Deewan-e-Mayank, a collection of 213 Hindi gazals based on Hindi varnmala, published in the year 2014 by Sheri Academy, Bhopal.