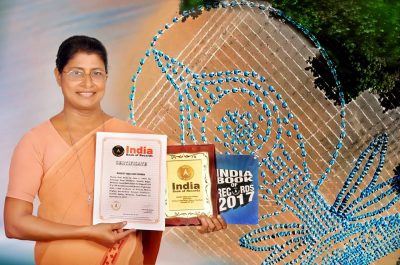 Yoga – the connection between human beings and their desires for a freer world
A Yoga logo depicting widespread reach of logo to almost all parts of the society, country and the world on the whole.
Yoga beneficial for human beings, health, peace, prosperity etc., a human chain for depicting its respect, love, care, adulation towards Yoga.

Yoga bringing together and uniting subjects from different quarters of the society, into a combined, big, strong force.
Yoga is for all without any discrimination based on caste, creed, culture, language, colour, nationality etc.
BIGGEST YOGA LOGO FORMED
Sheela Paul (born on June 1, 1967) the Principal from Vandiyur, Gandhi Nagar, Madurai, Tamil Nadu made the Biggest (164 ft x 126 ft) International Human Yoga Logo with 1,300 students at Fuscos Matric Higher Secondary School, Vandiyur, Gandhi Nagar, Madurai, Tamil Nadu on September 1, 2017.