BICYCLE YOGA BY A FEMALE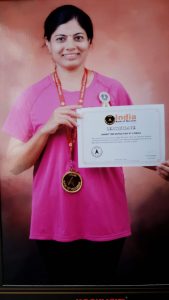 Disease free and smart body keeps our mind fresh and strong which is essential for doing fast work and taking strong & smart decision. For that, regular practice of yoga is just like the best medicine which keeps our body fit and smart, the whole world has accepted this reality.
The record for doing bicycle yoga for more than 30 minutes without touching the handle of the bicycle was achieved by Mangla Patil (born on March 25, 1975) from Dhantoli, Nagpur on July 4, 2018.