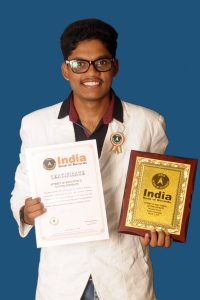 Talent is not a man made thing, it is a natural gift.  Such a type of person has a special ability to do something well.  It is an ability that someone is born with.
Chandan Suresh (born on August 31, 1997), Tumkur, Karnataka, attempted to form 200 Stencil Cutting Portraits
in 150 days
at the age of 21 years. He also completed a Live Performance of Paper Cutting Portrait
Within 4 minutes
and 30 seconds, as on March 1, 2018.