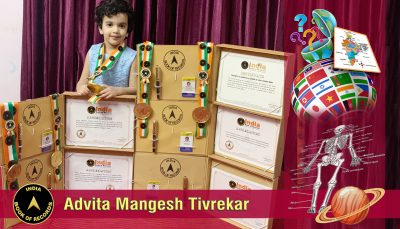 Advita Mangesh Tivrekar (born on March 6, 2016) is appreciated for answering 32 questions pertaining to doctors and their fields; 62 general knowledge questions and information about 20 Scientists, their inventions, their awards and achievements.
Advita appreciated for reciting Ganpati Aarti in 2 minute 45 seconds at the tender age of 4 years, 1 month and 29 days. She is from of Andheri (East), Mumbai.
She also appreciated for providing information on celestial bodies and answered 47 questions related to the solar system, at the age of 4 years and 2 months.
Advita Mangesh set the record for being the youngest to narrate 206 bones of the adult human body with their names, numbers and relevant information at the age of 4 years, 3 months and 12 days, as confirmed on June 18, 2020.
She set another record by reciting capitals of 197 countries in 11 minutes 56 seconds, at the age of 3 years and 7 months on October 6, 2019. Her parents made videos of these activities to claim for the records. For each video she practiced for 10-12 days.