AN UNIQUE COMBINATION OF ART AND TECHNOLOGY, MADE DRAWING IN POWERPOINT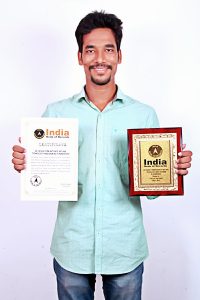 In this competitive age where technology is growing fast, computer plays a major role with the latest software package and mental efficiency of a person, it seems nothing is impossible. But the human spirit must prevail over technology.
Shankar R. (born on April 9, 1994) of Chennai, Tamil Nadu, have drawn an Image using "Freeform" tool in powerpoint, by first inserting the image of a personality on master slide and start drawing the objects, like ear, nose etc step by step, and then finally coloring the object, this whole process was completed in record time of 37 minutes and 37 seconds, as on May 9, 2018.