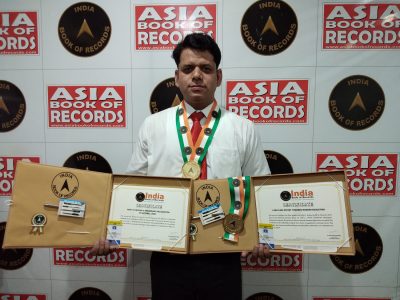 A SELFLESS EFFORT TOWARDS MODERN EDUCATION 
Success is not final; failure is not fatal: It is the courage to continue that counts.
A rather passionate Naveen Gautam of District Hamirpur, Himachal Pradesh successfully set a national record for launching the first website of a govt. school in Himachal Pradesh. His selfless efforts towards modern education with an intention to uplift the students from backward classes have shown tremendous success. The website also features an online library with an array of education material catering to masses.
FIRST TO RECEIVE A REMARKABLE RECOGNITION AT NATIONAL LEVEL 
For his tremendous efforts and unparalleled zeal to introduce modern education through virtual classes, Naveen Gautam of District Hamirpur, Himachal Pradesh is the first person to have received a national ICT Award in Himachal Pradesh by the President of India in the year 2015. India Book of Records salutes him for this vision and mission.