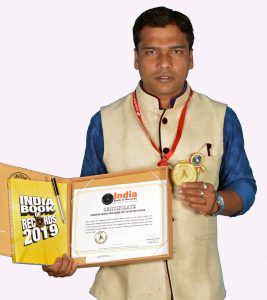 GODDESS DURGA IDOL MADE OUT OF MATCH STICKS
Sanjib Basak of Dhubri, Assam proved his devoutness when he set an ethereal record of constructing a Goddess Durga idol entirely out of match sticks. This 12 ft tall and 14 ft wide statue was displayed at the Vivekananda Durga Puja Committee Pandal, Dhubri on the auspicious occasion of Durga Puja on October 16 to 18, 2018.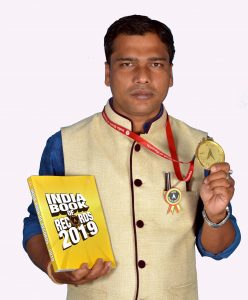 LORD GANESHA IDOL MADE OUT OF WASTE PLASTIC BOTTLES
Sanjib Basak of Dhubri, Assam, a rather pious personality, set surreal record of constructing a 8.5 ft×6 ft statue of Lord Ganesha using waste plastic bottles. This was his little contribution in extending support to the Swachh Bharat Abhiyaan. The statue was displayed at the Hari Sabha, Dhubri on the occasion of Ganesh Chaturthi from September 13 to 16, 2018.