Culture & Creativity
May 05, 2019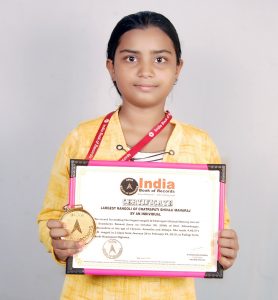 4,40,000 sq.feet …What comes to your mind when you read this figure?
A hotel… A hall… A farm, maybe.
But what if you were told that this is the area that was covered under a rangoli made by 12 year, 4 month and 28-day-old Saundarya Bansod. Unbelievable, isn't it?
Saundarya Bansod  made a portrait rangoli of Chhatrapati Shivaj Maharaja within a span of 31 days starting January 26 and ending on February 25, 2019, at Fulfagr farm, Shirdi Kopar Gaon Highway.