Human Story
March 03, 2018
Hard work with courage in an adventurous field gives a unique result. As we know that courage  is not a man made thing, it is a natural gift. It is an ability that someone is born with.  A courageous and passionate person has a special ability to change something impossible into possible. No doubt, he is a real hero and rare example of our society, Karan Singh Jagawat one of them.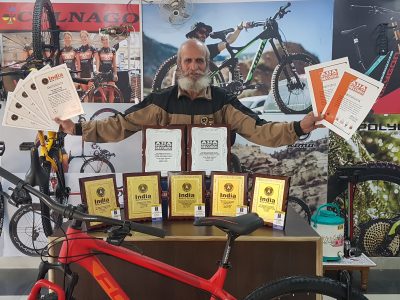 FIRST SENIOR CITIZEN FASTEST SOLO RIDE ON THE TRANS HIMALAYAN ROUTE  FROM TEZU (ARUNACHAL PRADESH) TO KHARDUNG LA (LADAKH)'
Karan Singh Jagawat (born on March 1, 1948) of Rajasthan, India, became the First senior citizen (70 years) to ride Solo (6,101 km), from Tezu, Arunachal Pradesh to Khardung La (Ladakh)  the Fastest (83 days) via Bhutan and Nepal from June 3, 2017 to August 24, 2017, on a geared cycle.