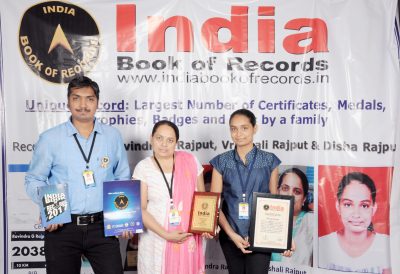 Ravindra G. Rajput (born on February 2, 1978), his wife Vrushali Rajput (born on November 10, 1978) and daughter Disha Rajput (born on November 21, 2004) of Chinchwad, Pune, Maharashtra is the most felicitated family, with 287 awards comprising certificates, medals, trophies, badges and bibs, as on September 5, 2017.
A family challenging the science of gene-editing with most number of good, special genes inherited by it naturally    
Not everyone in a family can be special. It is a scientifically proven fact that we inherit good as well as bad qualities from both our parents. However, if it a family which just inherited good things from its predecessors, is nothing else but just a miracle. Promising to pass on the same to its successors. We all are the way we are, because of our genes. Kudos here goes to a family, which knows gene-editing itself, proving as a gene-editor itself to stay at the top always, most felicitated one, no matter what comes.