Media Coverage
LONGEST SWIMMING IN NATURAL WATER BODY
Rangpur Water Sports Association, Sivasagar, Assam organized an event wherein Kashmiri Choudhury (born on March 26, 2009) of Sivasagar performed 7hrs 49mins swimming in  Joysagar Tank, Sivasagar starting at 6:47am and ending at 2:36pm on September 25, 2016.
SEA SWIMMING EXPEDITION

Master Jayant Jaiprakash Duble (born on April 6, 2002) of Nagpur, Maharashtra, performed sea swimming expedition for 42.195kms in 11.02hrs, starting from Gateway of India and ending at Worli Sea Link, on December 28, 2015. Cabinet Minister Shri Nitin Gadkari felicitated Jayant in Nagpur on August 21,2016.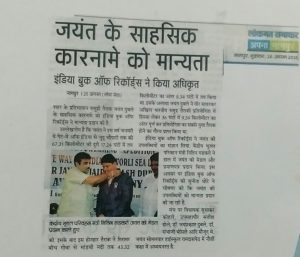 LARGEST ANTI TABACCO CAMPAIGN
Govind Mantri (born on January 22, 1982) along with Zilha Parishad, Jalgaon and Rotary Club of Jalgaon East from Maharashtra, organized an anti tabacco campaign, wherein 183,826 participants from 1850 schools took pledge for not taking tabacco, at various locations across Jalgaon district, on July 27, 2016.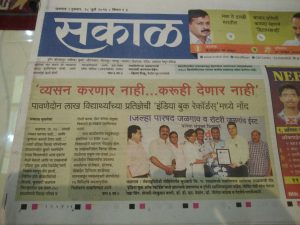 RECOLLECTED MOST SPELLINGS IN A MINUTE
Shreeganesh Biradar (born on May 24, 2012) of Bangalore, Karnataka, recollected 64 spellings in a minute, at Bangalore, on July 24, 2016.
He also recited 100 to 0 counting in 45 sec same day at same venue.
MOST RIVERS RECITED IN A MINUTE
Meghali Malbika Swain (born on February 7, 2006) of Bhubaneswar, Odhisa, recited 165 rivers in 1 min, at OASA Bhawan, Kharbela Nagar, Bhubaneswar, on June 26, 2016.
RECALLING DAYS OF RANDOMLY GIVEN DATES
Prashanth Chandran (born on September 25, 1997) of Thiruvananthapuram, Kerala, recalled days for randomly given 10 dates from year 0 to 10,000 at Hotel S P Grand Days,  Thiruvananthapuram, on June 7, 2016.
Ex. Chief Minister of Kerala Shri V S Achuthanandan graced the event and awarded certificate to Prashanth. Prashanth is differently able with medically certified limited capabilities but unlimited metal and memory skills and powers.
FIRST MIXED RECURVE ARCHER
Cherukuri Dolly Shivani, a trainee of Cherukuri Volga Archery Academy from Vijayawada, Andhra Pradesh, performed in a mixed shooting event along with 5 archers from five different distances 6 meters to 10 meters and scored most points at VMC Volga Archery Field, Vijayawada, on June 28, 2015.
---
MOST PEOPLE DRESSED UP AS THIRUVALLUVAR
To commemorate  the  inauguration of 'SYT : Students & Youth for Thiruvalluvar Units', 'Kongu Sahodaya Schools Complex' from Karur, Tamil Nadu, India, organized an event, wherein  most participants(2769) dressed up as Thiruvalluvar  and recited Thirukkurals for 12.29 min, at Atlas Auditorium, Karur, on August 8, 2015.
---
MOST SOCIAL AWARENESS EVENTS ORGANIZED IN A  DAY
S. Ganesh organized 12 social awareness events including Road Safety, Blood Donation, Eye  Donation, Planting Sapling, Helping Poor, starting at 8 am and ending at 8 pm, at Maadanapalle, Chittor, on July 27, 2014.
---
LONGEST SWIMMING MARATHON (FEMALE)
Smita Rajan Katwe swam continuously for 12 hours, starting from 7:00 am and ending at 7:00 pm, at MGM Swimming pool, Aurangabad, on August 15, 2014.
---
LONGEST RELAY SKATING MARATHON
Amateur Kolhapur District Roller Skating Association, Kolhapur, Maharashtra, organized an event wherein 146 participants performed non-stop relay skating for 131 hrs, starting at 6 am, on June 6, 2015 and ending at 5:30 pm, on June 11, 2013, at Shikshan Maharshi Dr. Bapuji Salunkhe Roller Skating Training Center, Kolhapur.
---
MOST STATISTICAL FORMULAS WRITTEN IN ONE HOUR
Dr. Archana Bhatia wrote 296 statistical formulas in 56 mins 16 secs, starting from 12:00 pm to 12:56 pm, at India Book of Record's office, Faridabad, on July 30, 2014.