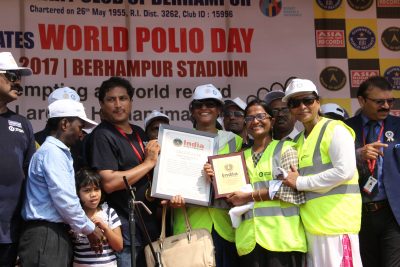 Rotary Club of Berhampur, Rotary International District-3262 of Odisha in association with St. Vincent's Convent School, Berhampur organized an event to make a Largest Human image of a Foot, wherein 1,729 participants made the formation of a human foot in 34min and maintained it for 5 minutes at Berhampur stadium, Berhampur, Odisha on World Polio Day i.e. on October 24, 2017.
Writing is unaffected of the foot in mouth disease 
Footprints as impressions in minds of people.
Everyone of us want to leave our mark at a place or the other, where we were once.
So that people can remember us even long after we have left.
Leaving footprints are quite difficult in today's fast moving lives, which just keep changing at regular intervals, sometimes by choice and sometimes as a compulsion.
Nevertheless, able to set foot at a single place to the extent of leaving an imprint regarding it, are no less than a feat even if it is a replica.