LARGEST BOKWA FITNESS DANCE LESSON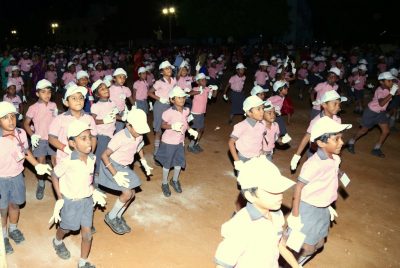 Dilip Dance Academy along with Shri Vijayalakshmi International School, Minister M. R. Vijayabhaskar and V. Dilip from Karur, Tamil Nadu, organized the Largest Bokwa Fitness Dance Lesson, wherein 555 people participated at Municipality Ground, South Gandhigramam, Karur, Tamil Nadu on December 23, 2017.  Feeling bad, unhappy in general, health wise – just dance over them 
A great way of shedding off weight.
Without throwing your weight around or feeling bad about exercising for the same.
Since, there are quite a number of us, who run away from doing exercises.
But when exercises come in the garb of dance, very few people may show their un willingness for the same, but just take part them.  
Happily dancing, smiling, sweating and saying bye to extra flab, obesity, problem of thyroid etc.
Putting themselves on the path of fitness, wellbeing, happier lives in the process and the like.