Intellectual and Developmental Disabilities training
Special Olympics Bharat (SOB) Delhi set a record for the maximum number of medical and sports professionals participating in a virtual training programme for Intellectual and Developmental Disabilities (IDD). The training programme occurred on the Zoom platform from March 21 to March 25, 2022. Special Olympics Bharat had set a target to train at least 10,000 professionals, however 8,772 professionals confirmed their online participation. This exercise made a national record and the organization got a listing in the India Book of Records (IBR).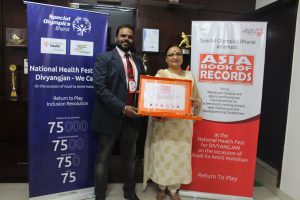 Intellectual and developmental disability is characterized by significantly below-average intellectual functioning (generally regarded as IQ below 70) combined with impairment in carrying out varying aspects of daily life and adapting to the normal social environment. A 'closely related developmental disability' means having functional limitations in both general learning (such as IQ) and in adaptive skills (such as in recreation, work, independent living, self-direction, or self-care). This gave reason enough to the organisers, Special Olympics Bharat (SOB), to create a one-of-its-kind online training – that also set a national record.
The virtual training that set a record with India Book of Records was conducted by various doctors and experts. Dr Santosh Ravindran conducted an online training programme on Special Smiles. On the other hand, Dr Manisha Vyas explained the topic of Health Promotion to the medical and sports professionals. Dr Charley Daniel took to the Zoom platform for training purposes with his topic for the training being Fitness Corner. Similarly, Dr Namineni took to the online training to explain the topic of Special Smiles. The Amrit Mahotsav Flow training was common for all.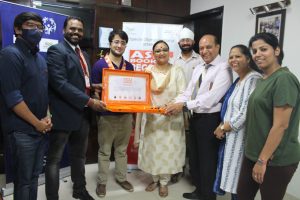 Special Olympics Bharat (SOB), a National Sports Federation registered under the Indian Trust Act 1882 in 2001, is accredited by Special Olympics International (SOI) to conduct Special Olympics Programs in India. Air Marshal Denzil Keelor is the founder of the organisation. It is recognized by the Ministry of Youth Affairs & Sports, Government of India as a National Sports Federation in the priority category, for development of Sports for Persons with Intellectual Disabilities and is a designated nodal agency for all disabilities on account of its national presence and experience, especially in rural areas which account for nearly 75 percent of the disabled population in India.
As per SOI General Rules, a person is considered to have an intellectual disability for purposes of determining his or her eligibility to participate in Special Olympics if that person satisfies any one of the following requirements:
1) The person has been identified by an agency or professional as having an intellectual disability as determined by their localities; or
2) The person has a cognitive delay, as determined by standardized measures such as intelligent quotient or 'IQ' testing or other measures which are generally accepted within the professional community in that Accredited Program's nation as being a reliable measurement of the existence of a cognitive delay; or
3) The person has a closely related developmental disability.