Fastest K2K unsupported solo cycling expedition
Srinivasan B, a 46-years-old cycling enthusiast of Chennai, Tamil Nadu, completed his 'Solo Unsupported Cycling Expedition from Kashmir to Kanyakumari (K2K)' in 14 days, covering a total distance of 3677 km. He established this record by riding the bicycle at an average speed of 260 km per day, passed through 13 states, crossing around 1,000 flyovers on the way. His message to the masses was: Commute on bicycle and avoid polythene bags to reduce pollution.
Srinivasan, a mechanical engineer working with a PSU under Petroleum Ministry, started the expedition on February 12, 2022, from Ghanta Ghar, Srinagar at 6.30 am, when the temperature was minus 4 ℃ , ending the journey at Kanyakumari on February 26, 2022 at 9.30 am, where the temperature was 36 ℃.
K2K is a dream ride for all cyclists. Many have done this in groups or as solo with a support team i.e., with a recovery vehicle, spare cycle, mechanic, physiologist, etc, but very few have done this as an unsupported solo ride. For him, it was a challenging and tough ride with 15 to 16 hrs of cycling with 4 to 5 hours of sleep per day. Food and stay were arranged spontaneously enroute. He carried with him bare minimum clothes, one spare tyre, three spare tubes, a tool kit, two cycle pumps, a chain link and one chain fixer.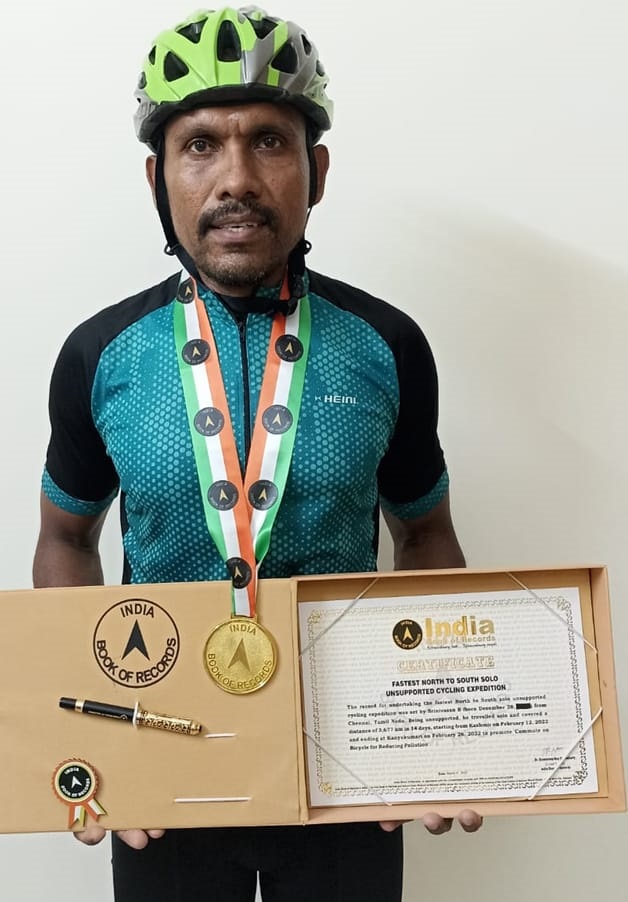 How did he plan this solo expedition and what were the challenges? His reply was, "I planned this journey in May 2021 and practiced for seven months. I rode almost 110 km per day while attending office as usual and did workouts at the gym. Training, diet, arrangements, everything was done on my own, without any trainer. In January this year, I cycled 3125 km as part of the training. During the ride, I passed through scary forest areas in Maharashtra and Madhya Pradesh; high day temperature, and damn chill (minus 4 ℃, in Kashmir) freezing my fingers and feet."
At Srinagar, he got permission from the Army and tunnel authority to ride through a 9 km long tunnel, which is generally not allowed to cyclists. He talked to many people enroute and explained to them about the issue of environmental pollution. Being a Rotarian, he visited the Rotary Club offices at Srinagar and Kanyakumari and exchanged the club flags.
How was his experience as a solo rider? Upon this question, Srinivasan sentimentally shared that many times he literally cried being solo and the hardships he faced on the way, but not for a moment he thought about quitting. The thought that he was strong and careful kept him happy. He felt extreme pain in the night, but woke up fresh at 5 o'clock every morning. To develop strength, he had done 100s of pushups and squats everyday before the expedition. To evaluate his capacity for K2K, he also did a Chennai to Kanyakumari (750 kms) solo cycling in August, 2021.  That ride boosted his confidence.
Srinivasan said, "My initial plan was to finish the K2K expedition in 18 days with 200 km per day speed, but completed it in 14 days with 260 kms average distance covered per day. The best part was when my wife and kids joined me in the last 7 kms taking photographs, videos and giving me company. Saturday is my lucky day; therefore, I started the ride on Saturday and fortunately completed it on Saturday. My skin tanned badly and I lost a lot of weight," he shared.