75 portraits of Lokmanya Tilak
The record for 'creating and having a collection of a maximum number of portraits of a national leader in different mediums' was set by Suresh Wamanrao Wargantiwar of Pune, Maharashtra. He created 75 portraits of Lokmanya Bal Gangadhar Tilak using 75 unique mediums to mark the occasion of 'Azadi Ka Amrit Mahotsav'. His attempt brought him fame in the form of a national record under the India Book of Records.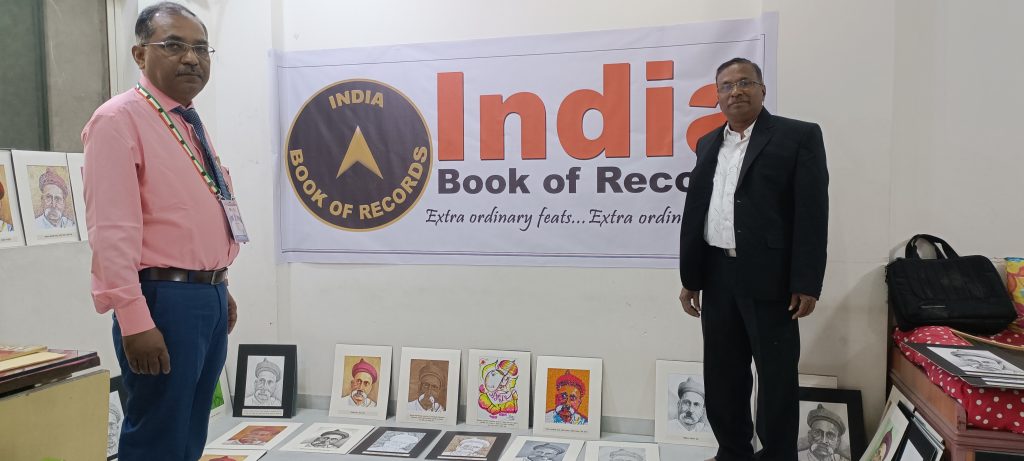 Suresh Wargantiwar (53) is an Art Teacher and Supervisor at the New English School, Ramanbaug, Pune. The school, established in 1880 by VK Chiplunkar with Bal Gangadhar Tilak and MB Namjoshi, is managed by The Deccan Education Society. "Since the 75th Foundation Day of our school and the Aazadi Ka Amrit Mahotsav coincided, I thought it appropriate to create 75 portraits of Tilak in 75 mediums. My idea was to celebrate the occasion in a different way and I should do something for the school, society, and nation through my subject. This project was made in this spirit. This was my small effort, a way to give back to society," Suresh said.
He used water colour, poster colour, pencil shading, canvas painting, collage, aluminium, shadu mati, fiber, coloured twine, coloured paper, nib painting, mehndi painting, emboss, dry grass, tree leaf, daal, rangoli, and scores of other mediums to create the pictures of the national leader. The portraits have been created in a variety of ways, using various materials and different techniques. Some of the portraits are prepared using different papers, i.e. newspaper, magazine pages, drawing paper, Japanese ivory card, drawing paper, handmade paper, mount board, cardboard, leather texture paper, etc.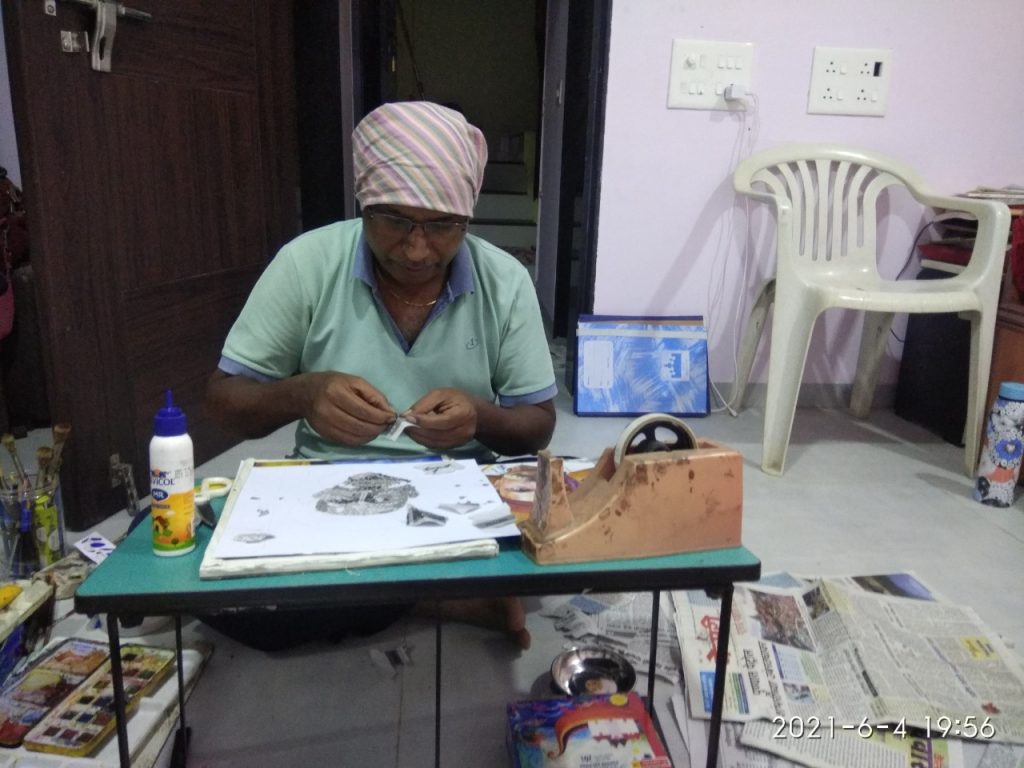 A completely different kind of paper is also used, namely the 'Bhojpatra'. There are trees in the Himalayas, the bark of which was used in writing the mantras in ancient times. The age of this kind of paper is longer than other papers. One portrait was made of groundnut shells. Kesari newspaper was founded by Lokmanya Tilak, so one portrait has been made from a collage of clippings of Kesari newspaper. Tilak had started Ganeshotsav, so an image was created using the word Ganesha.
'Swarajya is my birthright, I will have it' — this was the slogan of Bal Gangadhar Tilak. Hence one digital painting was created using this sentence. Besides, Tilak linked many institutions, states, and countries together, so one of the pictures has been included in the form of a puzzle. To express Tilak's attachment to art, one of his drawings was depicted as a Rangoli. Based on the Swadeshi slogan of Tilak, a portrait of him has been made from pieces of khadi cloth.
Tilak was very fond of nature. Whenever he got time, he used to visit Sinhagad for rest, contemplation and study; hence a picture of him has been made through the leaves of trees found there. To show that Tilak's ideas are still valuable, beads have been used in one of his portraits. Some of the artists who supported the project included Vijay Dikshit, Mahendra More, Trimbak Pokharkar, Shishupal Panke, Leena Wargantiwar, Vidya Jiture, Akshay Shahapurkar, Anil Suryvanshi, Anil Balvant, Radhika Malekar, Anant Khairnar, and Mugdha Gohad.