YOUNGEST TO SHOOT MOST ARROWS IN LEAST TIME IN 122 cm FACE
Archery follows the principle of self-determination with prefect dedication. Success is the sum of all small efforts, repeated day in and day out. The perfect angle for one archer might trigger a catastrophic shot for another that makes him winner.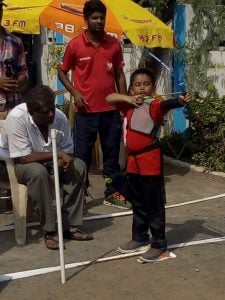 Malapati Maruthi Aarush Reddy (born on May 23, 2013) of Vijayawada, Andhra Pradesh, became the Youngest to shoot the 118 arrows in 14.40min in 122 cm Face from 15m, at Cherukuri Volga Archery Academy, Vijayawada, Andhra Pradesh, on May 20, 2018.