Tag Archives:
TWO RECORDS SIMULTANEOUSLY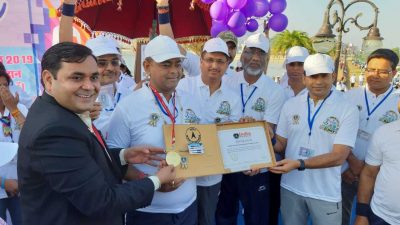 LARGEST RUN WITH ELECTORAL PHOTO IDENTITY CARDS
There is a reason to gloat once you have run to vote!
On April 21, 2019, Vishwa Mohan Sharma (District Election Officer & Collector) of Ajmer, Rajasthan organized a 5 km run that started from Nagar Nigam, Ajmer and ended at New Anasagar Chaupati, near Regional College, Ajmer, Rajasthan. A total of 1500 participants added to the grandeur when they ran the distance bearing their electoral photo identity cards.